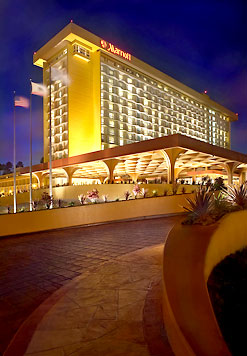 We are pleased to return to the LAX Marriott, featuring free shuttles to and from LAX, a terrific 12,500 sq. foot ballroom, restaurants, Starbucks, a pool and hot tub!
You can book rooms by calling 1 (888) 228-9290. Our discounted rate for rooms has now expired. Our discounted parking rate is $13/day. Guests of the hotel get free in and out privileges per 24 hour period; non-hotel guests pay every time they enter the parking lot.
If you would like to connect with potential roommates, try this Facebook page, Camphollywood Room finder.
We are able to have lots of dance space and this great location because of all the people who book overnight rooms at the Marriott, which offsets costs. So if you can, stay at the Marriott!
The fabulous Los Angeles Airport Marriott is located at 5855 West Century Blvd, Los Angeles, CA. They offer a free airport shuttle every ten minutes to and from LAX so there's no need to rent a car!