Our 2019 Camp Hollywood staff
Instructors:
Dee Daniels Locke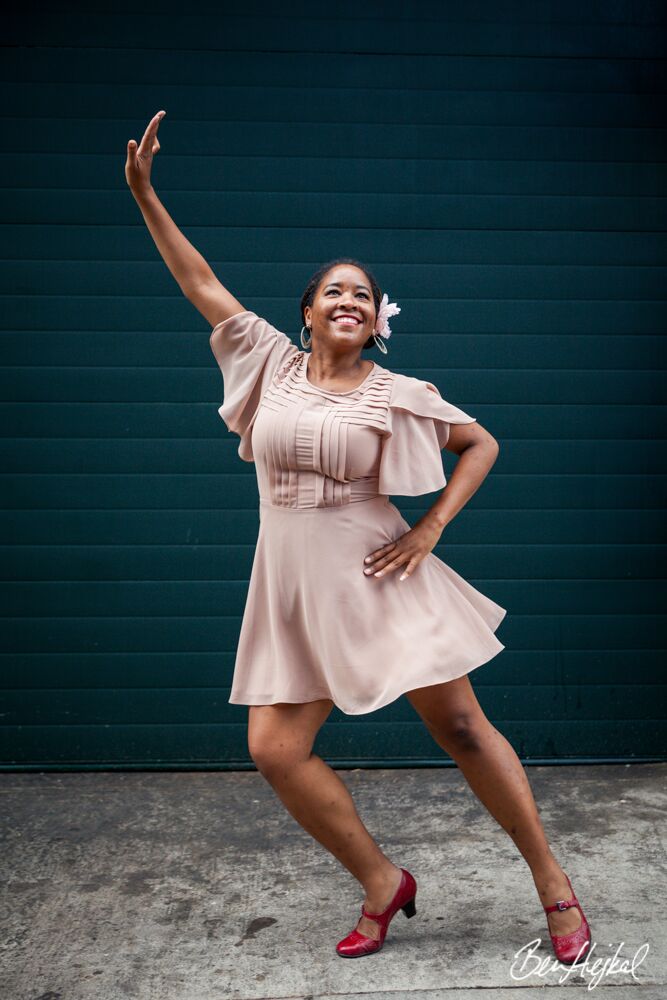 Dee started Swing Dancing at the age of four with her Dad in the basement, wearing her Mom's heels and her favorite plaid skirt. With a hiatus into hip-hop during her school years, she was called back to Lindy Hop, becoming an influential member of the Minneapolis scene, where you can find her teaching at Uptown Swing. Dee loves feeling free on the dance floor. She advocates for self-expression and individual creativity as the spirit of solo jazz and Lindy Hop. She loves Lindy Hop's particular way of encouraging collaboration between music and partner, priding herself on making each dance unique to the musical experience and partner.
Joshua Mclean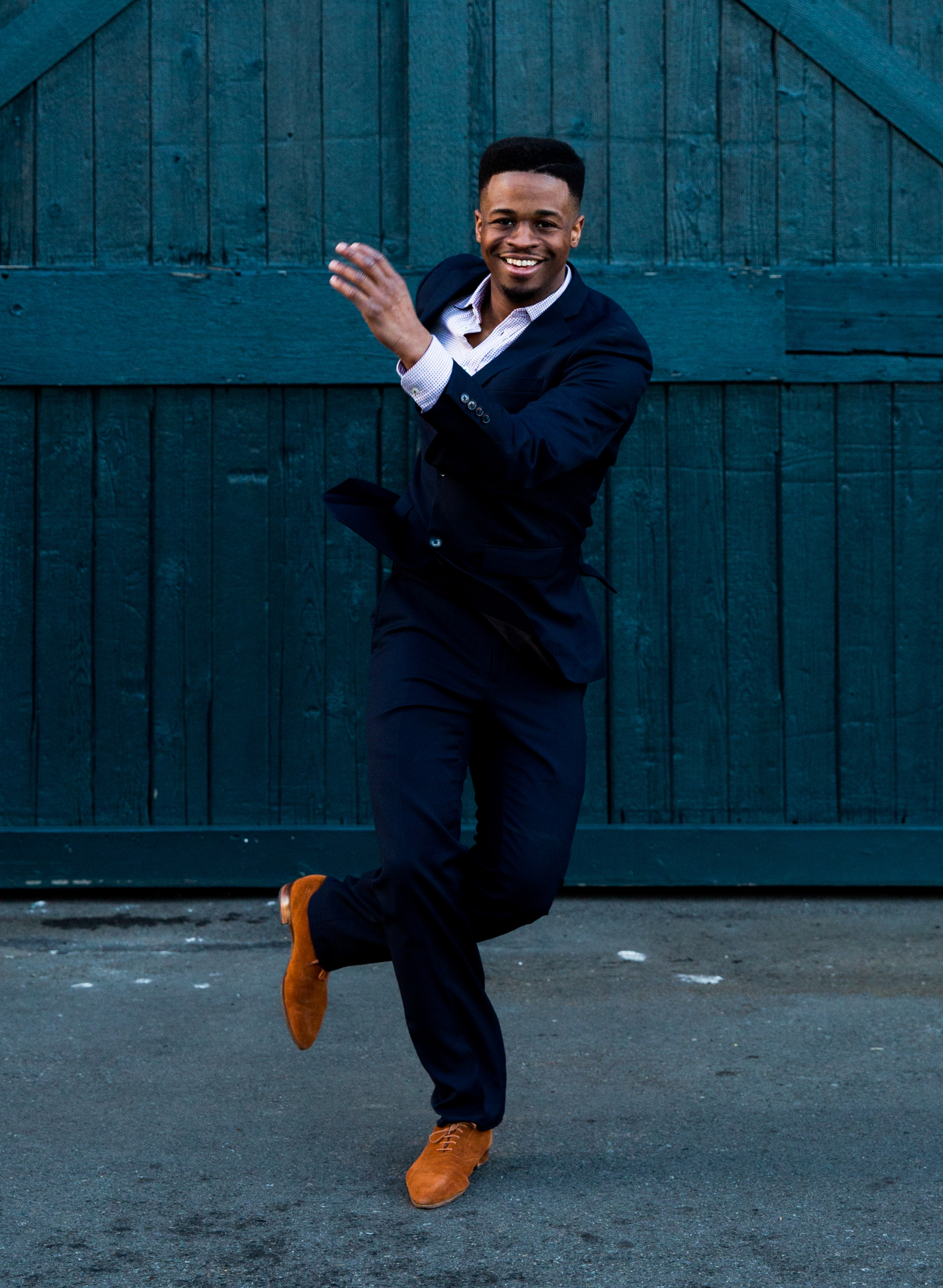 Joshua Mclean loves to dance. He was introduced to Ballet and Hip Hop as a young child and then discovered Lindy Hop and Vernacular Jazz dance whilst at high school in 2010, he was immediately captivated. Joshua is an energizing element in the Lindy Hop dance scene and is recognized for his work with rhythm and improvisation on the dance floor. He is dedicated to the study and performance of Vernacular Jazz movement, Charleston, and Lindy Hop. Joshua is a Lindy Hop Ambassador for the Frankie Manning Foundation, an organization dedicated to honoring the African American traditions of Vernacular Jazz Dance and spreading those dances around the world. In the past seven years, his travels have brought him to Canada, Chile, Spain, Sweden, France and all across the US to teach, perform, and share Lindy Hop, Charleston and Vernacular Jazz Dance.
Performing:
Along with competition titles from the International Lindy Hop Championships and other Lindy Hop dance festivals, Joshua has performed with several groups, including groups under his direction. Some notable appearances include:
Wild Rhythm Dance Company
Performance at Jacob's Pillow (2018) – Ensemble Dancer and Featured Soloist.
HellaBlackLindyHop – Artistic Director and Choreographer.
Rhythm Ambassadors – In affiliation with the Frankie Manning Foundation; Artistic Director and Choreographer.
Alice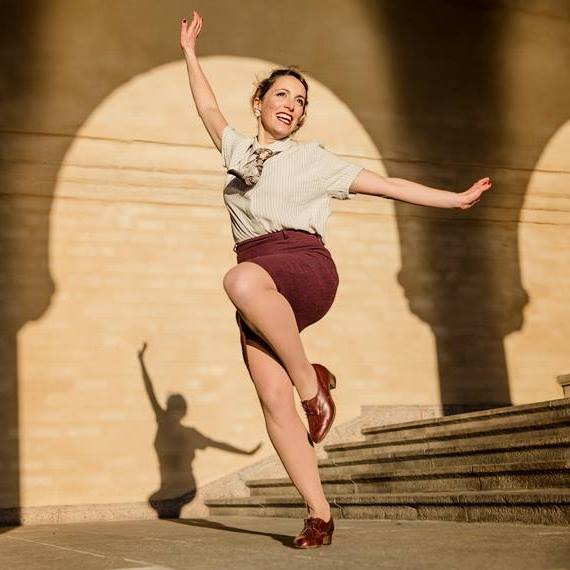 Alice started dancing at 4 years old. From 4-14yrs old she had the honor of interpreting almost every single Disney Character from "Dopey" to "Tinker-Bell."
She eventually joined a national dance school for another 4 years where she practiced Ballet, Contemporary and Jazz dance daily. Slowly burning out with these dance styles, she began to look for something new. After a few unsuccessful attempts at African dancing, flamenco, and kick boxing she eventually met her true love, Lindy Hop!
Meanwhile Alice was studying to become an architect and working in the beautiful south of France. She was sharing her time between dance and architecture when the opportunity arose for her to dance full time. With some slight fear and hesitation, she took the leap, and pursued what she loved the most. She has since been touring and teaching full time living the adventurous Lindy-Lifestyle.
Alice is definitely at her happiest when she is swingin' it on the dance-floor. You will most likely hear her giggling from the other side of the room when she is social dancing. Alice enjoys keeping her dancing simple and natural. It seems like her silliness has reached enough people since she won the "dancers choice award" at ULHS in 2006. In class, she teaches the same principals that she cherishes as a dancer and she mainly focuses on keeping things simple and in rhythm.
Jennifer Runyan & AJ Howard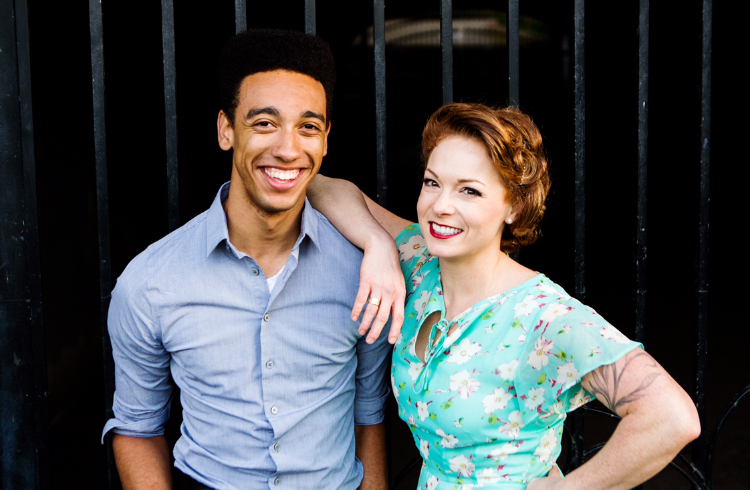 Jennifer started dancing Lindy Hop in 2014 and hasn't stopped since. Mixing her passion for the dance, her love of swing music, and her natural athleticism, Jennifer brings a fresh dynamism to the floor every time she dances.  She has won first place titles at numerous events to include the National Jitterbug Championships (NJC), the International Lindy Hop Championships, the Northwest Lindy Hop Championships, Inspiration Weekend, the Arizona State Lindy Hop Championships, the California Swing Dance Championships, Rocky Mountain Balboa Blowout, and made finals or placed in many more. In 2016, Jennifer and AJ were also awarded the Golden Budgie Award at the NJC for exceptional performance and exemplifying the Spirit of the Jitterbug. Jennifer continually focuses on both the technical aspects of partner connection, movement, and musicality, but strives to maintain the simple, but powerful joy, inherent in being a "Jitterbug."  Jennifer was a member of the three-time, current reigning national team champions, The Midtown Stompers, and in her non-dance time, she can be found at the gym, fighting crime, or hanging with sister and dog, Sherlock.
AJ was introduced to Lindy Hop during the Fall of 2014 in Sacramento and immediately fell in love! With his energetic personality, love of the dance, and history with jazz music, he channels those traits and delivers a performance that's 100% unique! He has placed first in various Lindy events such as Inspiration Weekend, Camp Hollywood (NJC), International Lindy Hop Championships, and California Swing Dance Championships. He and his partner Jennifer have been dancing together for over 3 years now and in addition to their exceptional performances in couples competitions, they're also current members of the 3-time reigning NJC Team Division Champions, The Midtown Stompers! As a dancer that 'feels' the music, AJ really puts an emphasis on the fun aspect of the dance while still aiming to deliver an enjoyable conversation. He and Jennifer are recognized around the Lindy Hop community for their dynamic air steps and synergetic partnership. For the rare occasions when he's not dancing, AJ is either at work selling cars, going out with friends, or watching Lindy Hop videos on YouTube!
 Sylvia Skylar
Sylvia Skylar along with partner Erik Robison began dancing together in April of 1997. Their similar interest in reviving the earlier forms of swing dance was the driving force behind their wholehearted investigation into the more traditional swing dances, such as Partnered Charleston, Collegiate Shag, and the Balboa, as well as the more common dance of the 6 and 8 count Lindy Hop. They studied hours of old movies, soundies, and vitaphone shorts and actually had the opportunity to learn first-hand from many of the original dancers from these clips.
The more they studied, they realized that there was an entire style of Lindy Hop which seemed to be lost in the modern Lindy movement. It was the style that belonged to the swing dancers from Southern California and more specifically, Hollywood, during the 1930's and the 1940's. Erik and Sylvia fell in love with the style and dedicated themselves completely to its revival. Erik and Sylvia named and trademarked their rendition of this authentic Lindy Hop style "Hollywood Style". Hollywood style refers not to the geographic area of origin, but to the medium from which they learned, old Hollywood and its dancers. Today Sylvia is happy to pass on the legacy of this style which became iconic for the late-90s LA Swing Revival (and was the style that Camp Hollywood was created to celebrate in 1998).
Jo Hoffberg
Jo Hoffberg is one fancy-pants lady in the lindy hop world today. She holds first place titles from the American Lindy Hop Championships, Canadian Swing Championships, International Lindy Hop Championships, European Swing Dance Championships, National Jitterbug Championships, Ultimate Lindy Hop Showdown, and U.S. Open Swing Dance Championships. Since 2007, Jo has spent her life traveling the world spreading jazz culture through vintage partner dancing and has taught and performed in 25 countries across 5 continents. She teaches vernacular jazz, lindy hop, ladies' only workshops, run teacher training in Europe and the States, as well as a performance/choreography weekend. In 2013, she was on the cover of Swing Magasinet om Swingdans, guest starred at Yehoodi broadcast of ILHC, and was inducted into the California Swing Dance Hall of Fame. She is a passionate and avid dancer, instructor and competitor.
Jo is also a notorious movie quoter and inundates her friends and students with her sassy attitude and one liners from Anchorman, Wedding Crashers, and How I met your Mother, as well as breaking out into song at inappropriate moments. When Jo grows up, she wants to be a secret agent and have language skills, survival skills, knife throwing skills, shorthand skills, costuming skills, and the power to read minds. When she is not learning a new skill, she plots to take over the world! After that accomplishment she's not entirely sure what she'll do. Long walks on the beach and cold weather aren't for her, but she does enjoy wearing boots and drinking cups of hot water.
Kevin St Laurent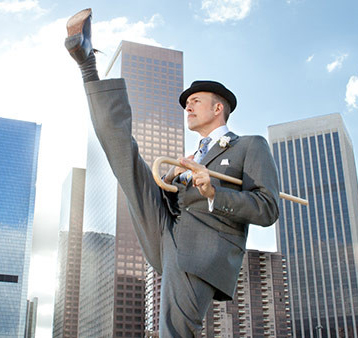 Kevin St. Laurent is internationally recognized for his energy and innovation as a Lindy Hop dancer, instructor, performer and choreographer.. His creativity on the dance floor stems from a command of musicality and partner connection, features of his dance that make him such an engaging performer, and his priorities in both improvisation and choreography. As an instructor, he concentrates on the technique of these elements at all levels, teaching his students the ability to adapt the style of their dance to that of the music and to create a dynamic dance with their partner. Kevin's energy and focus on fun are a constant backdrop to all of his work.
Mikey Pedroza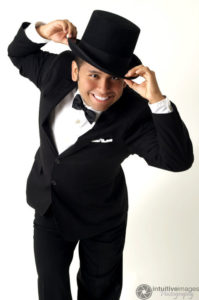 Since 1998, Mikey Pedroza has been dedicated to the understanding and preservation of classical American Jazz dances such as, Charleston, Lindy Hop, Balboa, Slow Dancing (Blues) and Solo Jazz. Hailing from Orange County, California, he passionately developed his own perfect blend of powerful movement and classic grace with a hard edged and playful style which is evident each time he steps onto the floor. Such dedication and originality has earned him numerous awards at national dance competitions as well as opened avenues for teaching and performing.
The same passion and energy Mikey exudes on the floor, he brings to students around the world. And as an instructor, he encourages his students to be self-expressive and creative while establishing a strong understanding of connection, lead/follow technique, frame, body awareness and mechanics. By building a good technical base, students are then free to develop their own personalized style with confidence. Mikey hopes that by sharing his love and knowledge of these dances with others, that they too will find joy in this classical American art form.
Todd Yannacone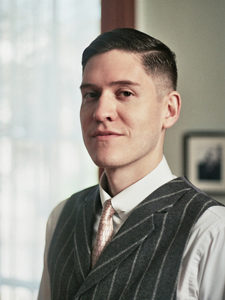 Todd Yannacone is one of the most recognizable names on the swing dancing circuit today. He has won countless championship titles from the most prestigious competitions around – The American Lindy Hop Championships, The Ultimate Lindy Hop Showdown, The U.S. Open Swing Dance Championships, The National Jitterbug Championships, The Rhythmic Arts Festival, Lone Star Championships, The International Lindy Hop Championships, Lindy Focus – to name just a few. Todd has been inducted into the California Swing Dance Hall of Fame, and has been interviewed for articles by Swing Dancer Magazine and various other publications. He has taught vernacular jazz, Balboa, Shag, Lindy Hop, Charleston, and other jazz era dances both locally and internationally since he was 16 years old. His demand as an instructor, performer, and judge has taken him to 28 countries and five continents. He specializes in connection and musicality, which is apparent every time he steps on the dance floor. He has worked with dance and music legends alike, and is a member of the acclaimed dance troupe, the Silver Shadows.
Nikki Marvin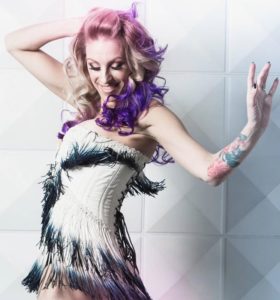 Nikki is one of the most recognizable follows in the scene today adapting her unique style to each of her unique dance partners. Nikki grew up with a passion for early Jazz and Swing music; learning to dance was a natural progression. A 1st place win at the 2004 National Jitterbug Championships jump started her competition, performance and teaching career and since she has gone on to win and place in many top level Lindy Hop Competitions including the International Lindy Hop Championships and the National Jitterbug Championships. Today Nikki travels the world sharing her love of the dance with her students.  Her style focuses on the things she loves the most about Lindy Hop: lead and follow, style, rhythm, and musicality.  She feels that we should look to other dance styles and dancers for inspiration and guidance, but form our own ideas about the dance. Nikki has been a featured performer on Dancing with the Stars, has worked on multiple occasions for choreographer from SYTYCD Mandy Moore, and has appeared in a long list of tv shows, movies, and music videos including the "Happy" video by Farrell Williams. Nikki owns the famous ATOMIC Ballroom in Irvine, CA, is a producer of Inspiration Weekend in Fullerton, CA, is the director of the award winning Atomic Cherry Bomb Chorus Girl company, and moonlights as Moxie Gold a burlesque producer and performer in the Orange County and Hollywood Burlesque scenes.
Kim Clever & David Frutos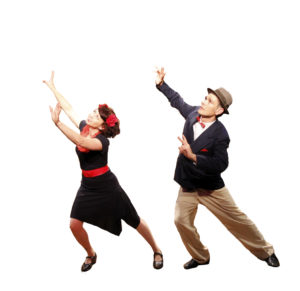 David and Kim met in a dark, smokey Swing dance class at a bar in 1994. By 1996 they were teaching Swing dance together at the world famous Brown Derby.  It was there that they first learned to teach a class that was both informative and entertaining. Over the years they have honed their skills as teachers in small and large class rooms around the world. As competitors David and Kim have numerous titles together from The National Jitterbug , International Lindy hop, and US Open Championships,  just to name a few. They have also been inducted into the California Swing Dance hall of Fame, both individually and as a couple. David and Kim have been honored to have worked  in Hollywood as choreographers, consultants and performers. With many credits to their name. But with all these accomplishments, David and Kim's real passion is teaching and sharing their love of all things Swing. They are known for their humorous and comprehensive teaching style that draws inspiration from Southern California Swing history and has kept them in demand these many years. They look forward to seeing all of you on a dance floor soon!
Cyle Dixon & Alexis Davila
We're delighted to welcome Alexis and Cyle as instructors this year – in addition to regular classes, they will helm our Kids' Track on Monday!
Cleveland native Alexis Davila was exposed to swing dancing at the age of twelve when she joined the after-school Lindy Hop classes that were offered near her middle school. Alexis picked up the rhythms and movements of swing dance very easily. She was quickly hooked and hungry to learn and do more challenging things after only a few months. She begged her coach, "Miss Valerie", to choose her to be one of the team members selected to attend the International Lindy Hop Championships. It was at ILHC 2011 that she proved herself to be a confident and sassy performer. For the past eight years Alexis has continued to wow both audiences and judges at major events such as Herrang Swing Dance Camp, Camp Hollywood/National Jitterbug Championships, Beantown Lindy Hop Camp, Lindyfest, Uptown Swingout, All Balboa Weekend, International Swing Dance Championships/Houston Jazz Dance Festival, Boston Tea Party, and most recently Midsummer Night's Swing at Lincoln Center. Her passion for swing dance and endless curiosity about the history of the dance has taken her to various events around the U.S., across the Atlantic to Sweden, and to the continent of Africa twice. Alexis traveled to Maputo, Mozambique to deepen her knowledge of African dance and how it applies to swing dance. While in Maputo, Alexis studied traditional and modern African dances, performed, and taught Lindy classes to both children and adults. Alexis Davila is eager to continue her life path with swing dancing, teaching, choreographing, performing, and competing. Alexis hopes that her involvement in swing dance will not only inspire others to give it a try but, that it will cause people to look deeper into the stories of the people, places, and musicians who helped create this amazing art form, Lindy Hop. Alexis is especially interested in being a mentor, teacher, and cheerleader to young people and women, just like the many people who have been those things to her.
Cyle Dixon began his love for swing dancing at the age of thirteen in an after-school program called The Cleveland Junior Jitterbugs. In 2011 when he competed for the first time at The International Lindy Hop Championships in the Juniors Division he realized swing dance would be a part of his life forever. Since his introduction to Lindy, Jitterbug, Charleston, and solo Jazz, Cyle has performed and competed at events across the country and also multiple times at the famous Herrang Swing Dance Camp in Sweden. He often places well in competitions and has won titles at events such as The International Lindy Hop Championships, Camp Hollywood/National Jitterbug Championships, Beantown Lindy Hop Camp, Uptown Swingout, and Boston Tea Party. Cyle is a proud Lindy Hop Ambassador for the Frankie Manning Foundation. He takes this role very seriously and he hopes that his actions on and off the dance floor inspire people to want to know more about Lindy and other swing dance styles. Cyle is known for his musicality and radiant personality on and off of the dance floor. He's a firm believer that dancing is all about having fun and enjoying the moment and music with your partner.
Nick Williams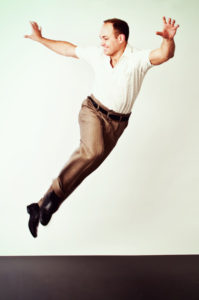 Nick Williams has embodied the passion and spirit of swing dancing ever since his first lesson in 1998. The depth of his understanding of Lindy Hop, Balboa, and Collegiate Shag stems from studying with the original dancers. Nick's desire for authenticity, combined with his passion for dance evolution, leads to a style known for precision, lightness, musicality and dynamic energy.  His successes include World Lindy Hop Champion, US Open Swing Dance Champion, American Lindy Hop Champion, National Jitterbug Champion, International Lindy Hop Champion, Ultimate Lindy Hop Showdown Champion, American Classic Balboa Champion and California Balboa/Swing Champion. He is also an accomplished choreographer and has been featured on the hit television show So You Think You Can Dance. As an instructor, he is known for his ability to break down movements and technique to create a fun and light-hearted learning environment. His true love of music and dancing will forever inspire him to learn, teach, and grow. In 2004 and 2010, Nick was honored to be recognized by the California Swing Dance Hall of Fame. Nick is also a member of the performance dance troupe Hot Club Stomp.
Chandrae Roettig-Gomez & Stephen Sayer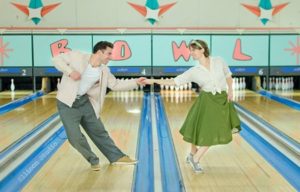 Stephen Sayer and Chandrae Roettig-Gomez are dancers/instructors who specialize in LA/smooth style lindy and collegiate shag. While they have a love for all things that swing, their primary influences and inspirations come from the Los Angeles Jitterbugs of the 1940's and 1950's. Their partnership began in late 2010 and together Steve and Chanzie have taken First Place titles in several national swing competitions. In 2011 they won 1st place in the Lindy Hop divisions at the National Jitterbug Championships and US Open Swing Dance Championships. In 2012 they took 1st Place in the Lindy divisions at Camp Jitterbug and again at the US Open. In 2014 they regained their 1st place title at the National Jitterbug Championships and also took their LA Shag team to a 1st place victory in the team division. You can find them teaching and performing all over the United States, Canada,  Europe and Australia. They are committed to improving and pushing the limits of their own dancing as well as those who take their classes, while keeping their regional style of swing alive.
Irina Amzashvili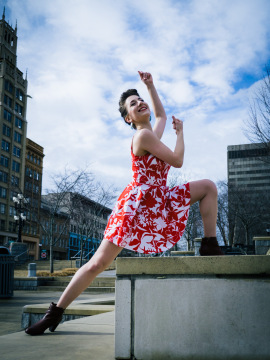 Dancing has always been a passion for Irina, her expression completely and boundlessly inspired by music. She began learning Lindy Hop at the age of 15 and fell in love with it after her first night of social dancing. Since then, her passion for Swing dancing expanded to include solo Jazz, Balboa, and Collegiate Shag.
Since her start in Lindy Hop in 2009, Irina has competed and taught across the U.S. as well as Europe. As a teacher her goal is to patiently guide her students through building solid foundation and technique as well as inspiring unique and personal movement and rhythm. Irina's greatest joy as a teacher is to see her students progress with their dancing, no matter the increment.
Tise Chao (instructor and Head Judge)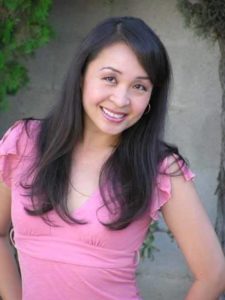 Tise started swing dancing in Southern California in 1997, learning first hand from local original swing dancers Ann Mills, Hal Takier, and Bart Bartolo, as one of the "Old School" kids. Her dance education began in her early years, studying lyrical jazz and flamenco dances with master teachers, and she continued to expand her dance knowledge throughout her dance career. Tise has performed and taught around the world with top Balboa, Collegiate Shag and Lindy Hop instructors Nick Williams, David Rehm, Bobby White, Augie Freeman, Jeremy Otth and Mike Mizgalski, as well as consistently winning top placements in international level dance competitions. Tise works as the head judge and competition coordinator at numerous international dance competition and events, and continues to mentor and support the next generation of dancers. Tise is dedicated to preserving yet innovating the dance, with Balboa being one of her favorite dances from the original swing era. With her smooth fast feet and her jitterbug energy it's difficult to keep up with Tise on the social dance floor! Tise hopes to inspire other dancers to find their own sense of style and spirit by sharing her vast knowledge, passion, and energy with the people who appreciate the art of swing dance.
Giselle Anguizola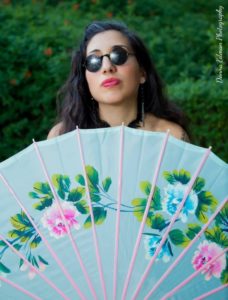 Giselle has dedicated her life to jazz era dances for twenty years. She has been an unmissable voice in the swing dance community as a successful: performer, instructor, competitor, event organizer, social dancer, judge, DJ, and singer/band leader.  She is founder of Girl Jam, an organization honoring women in jazz music and dance.  Girl Jams host weekend festivals around the globe, inspiring Jazzy women of all generations. She has recently devoted herself to combining vintage tap/jazz with singing as part of her performance. She's highly influenced by Cab Calloway and loves bringing the music to life. One of the top proponents of syncopated footwork, personal style, improvisation and communication – Giselle will breathe rhythmic life into any dance, class, or stage appearance. "G", spends most of her days working as a vintage jazz performer – singing and dancing in New Orleans with The Swinging Gypsies & The Swinging Three.  She never ceases to stop spreading her love for jazz culture in the epicenter of Jazz and around the world.
Giselle's only desire is to instill and inspire the joys of community, passion and artistic freedom to others.
www.giselleanguizola.com
Jean Veloz with Rusty Frank & Steve Conrad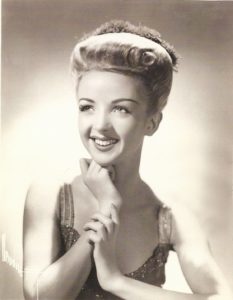 Jean Phelps Veloz (95 years young), the icon of the Hollywood Style Lindy to new generations of swing dancers, provides a living bridge from the Los Angeles dance scene of the 1940s to the present-day Lindy Hop revival that has swept the United States and the rest of the world since the late 1990s.  Hundreds of thousands of Lindy Hoppers around the world watch her on YouTube in her classic 1940s films ~  "Groovie Movie" and "Swing Fever."  Now is your chance to learn from the legend herself in person.  Jean Veloz was inducted into the prestigious California Swing Dance Hall of Fame in 1996.  JEANVELOZ.COM
Rusty Frank has been assisting the lovely Jean Veloz since the late 1990s in workshops around the globe as well as on national television shows (The Bachelorette and Forever Young). Rusty is the author of the critically acclaimed book TAP! The Greatest Tap Dance Stars and Their Stories 1900-1955, the producer and choreographer of the stage revues "Swingin' The Century – The Big
Band Show" and "Jazz Tap." Rusty is the producer of the in-production documentary, "TAP! Tempo of America"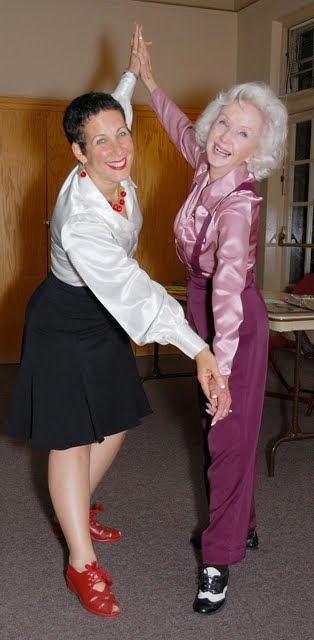 (recipient of a National Endowment for the Arts Grant). She has the longest running Lindy Hop program in Los Angeles: Since 1998, Rusty's "Lindy By The Sea" dance school (El Segundo, California) has been offering group and private classes in Swing Dance, Lindy Hop, Balboa, Collegiate Shag, and Charleston, and Rusty's "Rhythm Club" weekly swing dance in Playa Del Rey, California, is one of the few clubs in the nation featuring an evening of dancing to live bands.  Rusty began dancing at age six and entered the dance profession in her early 20s. She has taught and performed in twenty-three countries around the world and performed at such locales as Broadway's 42nd Street, The Hollywood Bowl, Disneyland, and the Derby. She also produces instructional Lindy Hop & Tap historic legacy lessons, including "Legends of Swing ~ Jean Veloz & Ray Phelps." Rusty is featured in the seminal Swing Dance documentary, "Alive and Kicking"  and was inducted into the  California Swing Dance Hall of Fame in 2008 and the Camp Hollywood Hall of Fame in 2015.  RUSTYFRANK.COM
Steve Conrad is the Founder and Director of the Arizona Swing Dance Society.  He has been teaching Lindy Hop for more than 21 years and has traveled around the world teaching. He was recently featured on ABC's "The Bachelorette", HGTV's "House Hunters", and NBC's "Little Big Shots: Forever Young", as well as numerous music videos and in USA Today.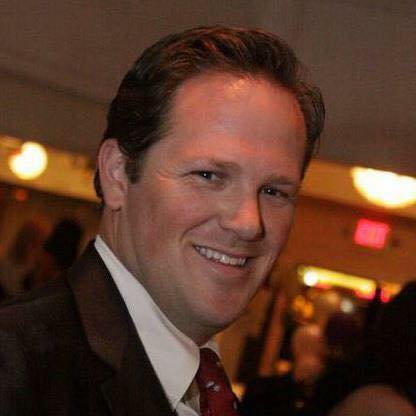 Michael Gamble (instructor and band leader)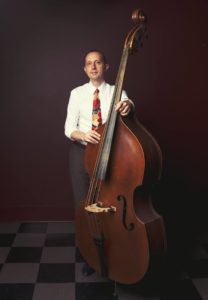 Michael Gamble has been at work within the swing dance community for over 15 years. Along with his wife and partner Jaya Dorf, he runs Lindy Focus in Asheville, NC, one of the largest events on the world scene. His band Michael Gamble and the Rhythm Serenaders is one of the most active and dedicated dance bands working today. He is a lifelong devotee to swing music, and in 2016 led a worldwide crowdfunding campaign to make the lost work of Savoy Ballroom bandleader Chick Webb once again accessible to contemporary swing orchestras. He received a bachelor's degree in music in 2006, and also during that time traveled the country teaching Lindy Hop in over 35 US cities, a set of circumstances that has recently led to him teaching the appreciation and practice of swing music within the dance community. Michael currently resides in Asheville, North Carolina, with Jaya, his partner in all things, their two dogs and four goats, continuing his lifelong study of the art forms he loves.
Jonathan Stout (musical director, band leader and instructor)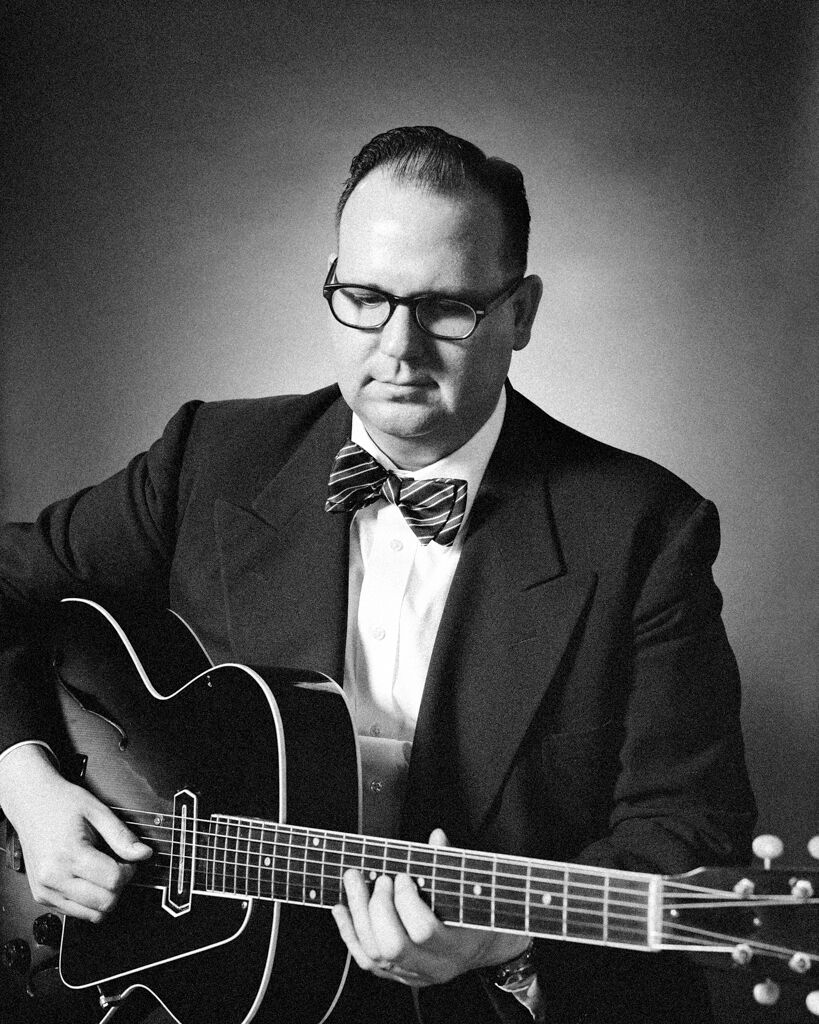 Jonathan Stout is a bandleader, guitarist, lindyhopper, and balboa dancer. For the last 16 years his bands have played all over the world to deliver Swing music with the specific purpose of serving the Swing dance community. His four albums with the Campus Five are fixtures in swing dance classes and DJ sets around the globe. Jonathan's background as a dancer allows him to provide the very best contest music, and his background in 20th century American History allows him to provide the stories, context and meaning behind the music. As a guitar player, he specializes in the varied styles of pre-bebop jazz guitar, most notably the electric single note style of Charlie Christian, and the rhythm and chord melody style of Allan Reuss. His album of solo guitar in the Reuss-style, "Pick It and Play It", was released in 2018. As a dancer, Jonathan is proud to have learned from such original masters as Ann Mills, Hal Takier, Freda Angela, and Bart Bartolo, and to have danced on the first place team at the 2002 National Jitterbug Championships. He was inducted into the Camp Hollywood Hall of Fame in 2009.
Scott Angelius (Contest Tabulator)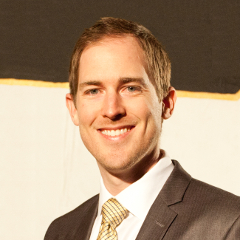 Cari Westbrook (Contestant Coordinator)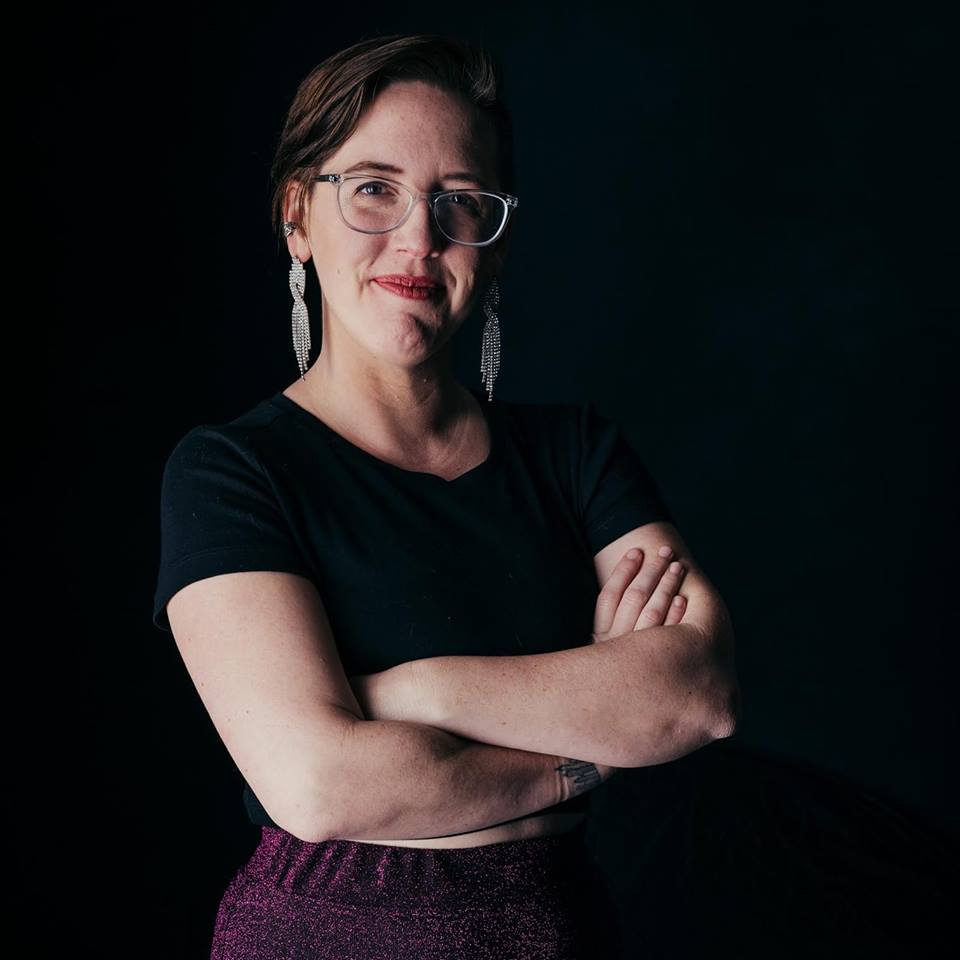 Brittney Caraway (Nighttime Master of Ceremonies)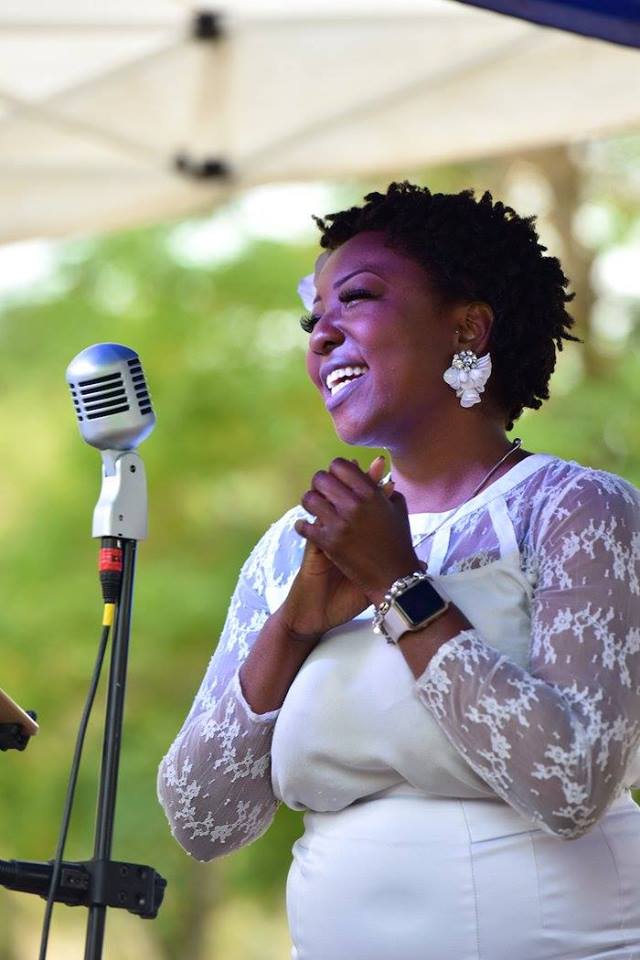 Wolfman (Daytime Master of Ceremonies)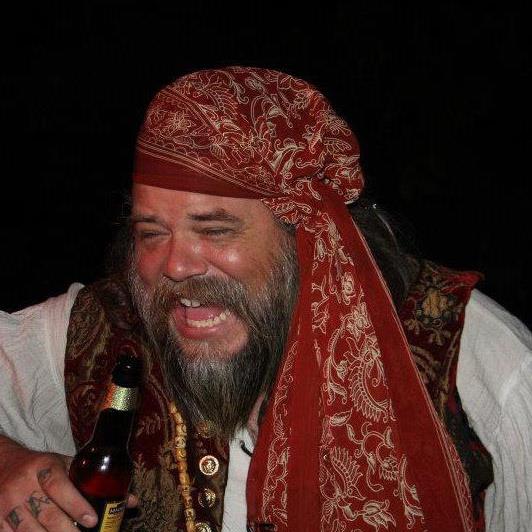 Shana Worel (Head DJ)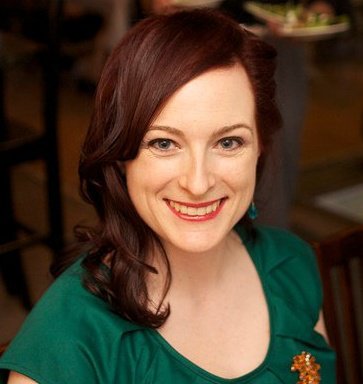 James Bennett (Volunteer Coordinator)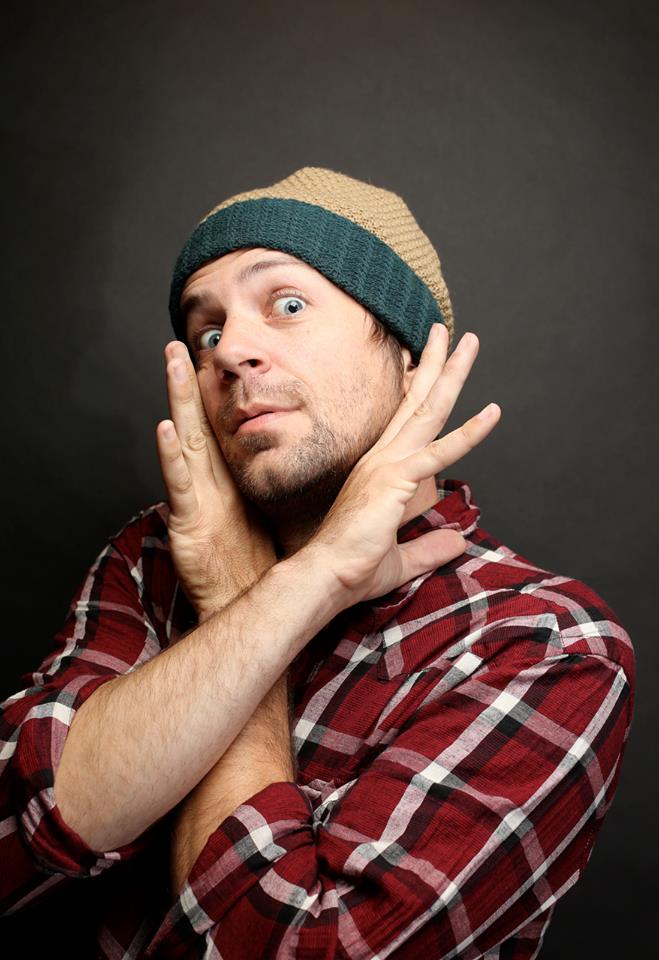 Mary Pittman (Vendor Coordinator)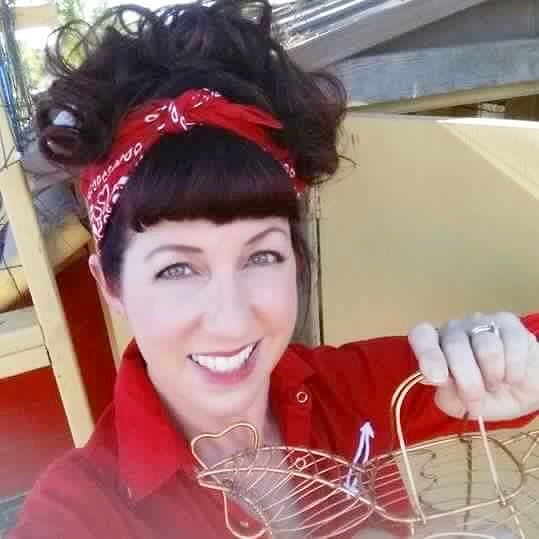 Traci LaDue (Safe Spaces Coordinator)